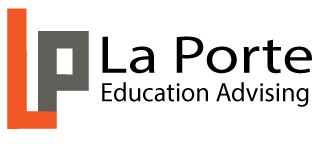 Liz La Porte is an experienced college advisor and high school English teacher who founded her education counseling practice in 2012 to help students navigate the college preparation and admission process, ensuring that the most appropriate, academic, extracurricular, and social-emotional learning decisions are made. She meets students' needs, whether it is a four-year roadmap, essay instruction, or individual coaching. In her role both as an SSSAT and English tutor and as a college advisor, her success-oriented approach builds students' confidence and increases their learning successes. Liz publishes an online newsletter, holds free college workshops, and leads college essay writing workshops.
A graduate of Swarthmore College and UC Berkeley, Liz grew up in Lafayette, CA and lives in San Francisco where she teaches at Town School for Boys.
​
TEACHING EXPERIENCE
​
Town School for Boys, SF, CA

American School Foundation, Mexico City

Stuart Hall for Boys, SF, CA

Mills High School, Millbrae, CA
​
SUBJECTS & CURRICULUM DESIGN
​
SSAT & ISEE Prep

7th & 8th Grade Reading and Writing Fundamentals​

7th & 8th Grade English

High School English

High School Art History

5th - 7th Grade Math
​
EXPERIENCE WITH LEARNING DISABLED
ADHD

Reading comprehension

Processing disorders

High anxiety
​
​
​
Need more details? Contact us
We are here to assist. Contact us by phone, email or via our Social Media channels.
Copyright © 2022 La Porte Education Advising. All rights reserved.