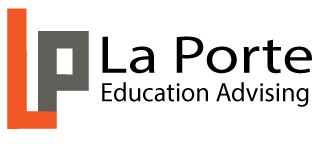 La Porte Education Advising
High School and College Admission Advising
Since 2012
​
​
SSAT Test Prep
SAT Verbal Test Prep
Middle/High School Tutoring:
Math, English, Spanish
Your success comes first.
Now Accepting Sophomores + Juniors
We are now accepting new students for the 2020-2021 academic year. Sophomores will be making important decisions that will impact their college profile, so starting soon makes a significant difference. Juniors will begin to request college admission meetings and maximize their academics and initiative, key metrics of college acceptance. Our Strategic College Admission Plans chart clear paths for sophomores and juniors to optimize:
​
Course Rigor & Selection

GPA Maximization & Academic Eligibility

SAT/ACT Test Strategies

Distinctive Extracurricular Opportunities

Summer Enrichment

College Exploration: Safety, Target, and Reach

College Majors

College Visits and Research

Scholarships & Financial Aid Information
​
What's the process to go forward?
​
Let's meet! Set up a no-obligation phone or zoom meeting to share your student's college goals and get to know us more. We then send a customized proposal outlining our specific service responsibilities, including several payment options. For more information, visit FAQ.
​
​
Recent Acceptances 2021
Reed College

Lewis & Clark w/ $80k Merit Award

School of Mines

University of Arizona
​
College Essay Instruction
Need a second opinion on your Common App essay? Need a hand writing a powerful supplementary Why essay? Contact us to get a professional opinion or to help you get started with your drafts.
​
Selective Summer Programs
Don't wait until June to plan our summer program; applications for the most selective internships and summer program can be due as early as December 15.
Plan ahead and explore programs through Stanford University, UCB, Texas Tech, and more or find out about cool and fun volunteer opportunities with local hospitals, historical associations, and Bay Area cities and counties. Take a class and get high school credit to bump up your GPA or start your own small business around your neighborhood.
​
We can help!
​
Elizabeth worked one-on-one with our daughter to assist in the college planning process from recommending colleges that met our goals, to writing college essays, to assisting in finding applicable scholarships to apply to, and to keeping her on pace with deadlines. My daughter is now happily attending UCSD studying Global Health, and we are all very grateful for all of the assistance that Liz provided. Thank you!!
Stacee Gillelen, Sacred Heart Cathedral Prep Parent, 2017
Spanish Tutoring
Native Speakers
Middle School and High School
Homework
Lectures
Reading Club
Conversation
​
College Advising
​
We help parents and students navigate the college preparation and admission process, ensuring that the best, and most appropriate, academic, extracurricular, and social-emotional learning decisions are made. We meet students' needs, whether it is a four-year roadmap, essay instruction, or individual coaching.
​
The key to a successful process is having a supportive, encouraging, relationship and providing a clear outline of the expectations, which includes comprehensive management of the admission process, year-by-year, and timeline management and deadlines of standardized testing, college applications, and financial aid applications.
Over the course of the high school experience, we meet students regularly in-person and during the coronavirus outbreak via video conferencing to optimize the following:
Course Selection & Rigor

GPA Maximization

Academic Eligibility: Ivy League, UC's, and selective top-tier schools

SAT/ACT Plans and Strategies

Extracurricular Opportunities: academic, leadership, and community service

Summer Enrichment

Gap Year Options (if requested)

College Lists: a curated range of safety, target, and reach schools

College Majors

College Essays

College Visits and Research

College Costs & Affordability Options

Scholarships & Financial Aid Information & Options

Financial Aid Application

Interview Preparation

Letters of Recommendation

Choosing Between Multiple Acceptance Packages
​
English Tutoring
​
We work with middle and high school students on essay structure, literature analysis, and organization.
Our students attend schools in San Francisco and the East Bay:
Acalanes

Bay

Benicia

Bentley

Campolindo

Galileo

Las Lomas

Lowell

Miramonte

Sacred Heart Cathedral Prep

Saint Ignatius

San Ramon

Stuart Hall for Boys

Town School for Boys

Waldorf
​
SSAT Tutoring
​
We meet with middle school students at their home or school and prepare them for the SSAT by taking them through diagnostic exercises, practicing test questions, and identifying test-taking skills. Sessions are personalized; we meet students at their level and build their confidence through a series of successful learning cycles. Individual or package rates apply.
Admission Webinar Series - A Success!
We've hosted 12 admission directors over the past few months who've appeared to present live information and take questions about the application process, financial aid, and more. To date, our guests have been Whitman, Harvey Mudd, Scripps, University of Oregon, University of Arizona, University of Washington, Loyola Marymount University, University of San Diego, Pepperdine University, St. Mary's of Moraga, Occidental, and Chapman. Contact us for more information!
2020
​
Amherst College

Bates College

Bowdoin College

Colby College

Connecticut College

Duke University

Oberlin College

Occidental College

Stony Brook University

Swarthmore College

Smith College

Tufts University

University of British Columbia

UC Berkeley

UC Davis

UCLA

UC San Diego

UC Santa Barbara

UC Santa Cruz

University of Illinois

University of Michigan

Williams College
​
2018
​
Chapman University

Colorado School of Mines

Cornell University

Gonzaga University

Harvard University

Illinois Institute of Technology

Lewis and Clark College

Northeastern University

Occidental College

Purdue University

UC Berkeley

UC Davis

UC Irvine

UCLA

UC Santa Barbara

UC San Diego

University of Seattle

University of Washington
2019
​
Clark University

Connecticut College

Knox University

Lewis and Clark College

Loyola Marymount University

Mt. Holyoke College

Seattle University

Stanford University

Tulane University

UC Berkeley

UC Davis

UC Irvine

UCLA

UC Riverside

UC San Diego

UC Santa Barbara

UC Santa Cruz

University of Puget Sound

University of San Francisco

University of Washington

Whitman College

Whittier College

Willamette University
Need more information? Contact us.
Contact us by phone, email or via our social media channels.
Copyright © 2020 La Porte Education Advising. All rights reserved.
2021, so far!
​
Lewis & Clark, 80K Scholarship

Reed College

School of Mines

University of Arizona
​